Description
Benefits
Made with a unique fabric texture, this luxury back scrub visibly removes surface layers of build up and dead skin instantly.
Great for dry, rough skin, eczema, back acne, and more.
Reach areas of your back you normally may not be able to with our extra-wide diamond-shaped design 8" W x 27" L super wide and super long.
Perfect for polishing and cleaning the back, neck, shoulders and hard to reach areas.
Improves circulation by massaging and invigorating skin.
A perfect length, even for people with broader shoulders.
Flexible and comfortable straps on both ends to easily exfoliate hard to reach areas.
How to Use:
Soften skin: Shower, bath or steam in water for 5-10 minutes. Do not use soap.
Squeeze the excess: Turn off water and squeeze excess water from the back scrub.
Remove dead skin: Use horizontal side-to-side motions for optimal results. Apply pressure (pulling handles away from your body) until you see dead skin cells roll away.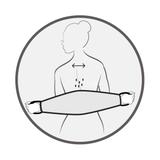 Materials: 88% viscose, 10% sponge, 2% polyester
Caution: Do not use on irritated, broken or damaged skin. Do not use on face or delicate parts of the body. Not recommended for use on infants or children.
Additional Product Information: Rinse thoroughly after each use and hang to air dry. Replace every 4-6 months. Ideal for all skin types.